More and more people are shopping online. What does it mean for small businesses? You guessed it. There are more opportunities today to start selling online successfully than ever before. Dropshipping is one such opportunity.
This article answers the questions for anyone curious about how to start a failproof dropshipping business: What is dropshipping? How does it work? How can you find a dropshipping niche, and what are the best products to sell online?
Are you in? Let's start!
Contents:
Why Start a Dropshipping Business?
How To Start Dropshipping: 5 simple steps

What Is Dropshipping?
Dropshipping is a special model of e-commerce business. All businesses selling goods online accept orders and ship goods to customers. But not all online shops stock or deliver items to clients by themselves.
This difference presents the answer to the question: What is dropshipping? Unlike typical online stores, a dropshipping business does not work with inventory directly.
A dropshipping shop:
Does not store goods
Does not pack goods
Does not ship goods
Roughly speaking, this type of business works simply as a display and sells items that it doesn't keep in stock.
Why Start a Dropshipping Business?
The dropshipping industry is not new. The market is mature and already quite competitive. So why start your own business here?
First, the potential market grows each year. According to Oberlo statistics, the number of online shoppers in 2021 will reach a 2.14 billion mark (while the estimated global population is 7.87 billion people). A simple calculation shows that around 27.2 percent of people in the world will be shopping online by the end of the year.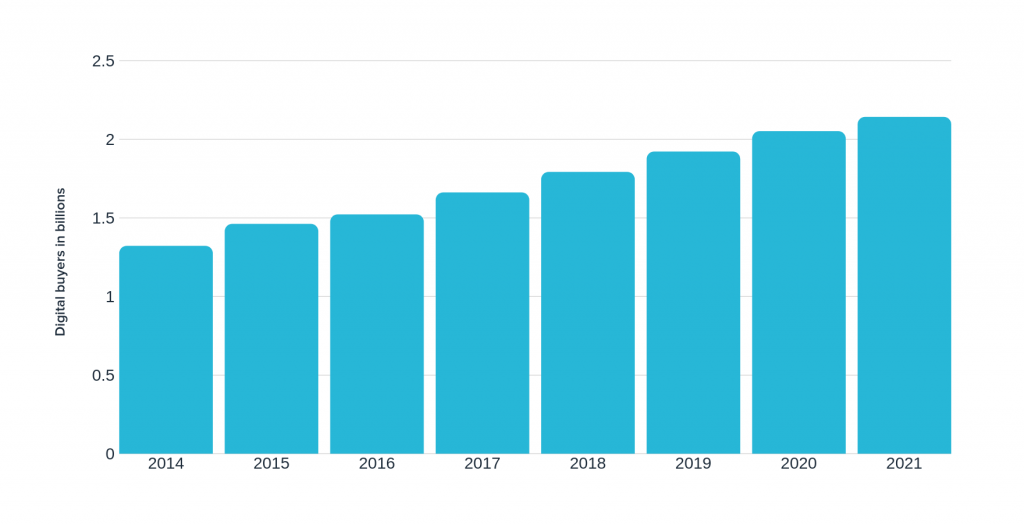 Secondly, more and more people are getting comfortable with online shopping. It means that buying goods from the Internet is becoming just as normal as going to the local shop. Online shopping is here to stay. The dropshipping industry — a significant part of it — is expected to reach a market valuation of $557.9 billion before 2025.
Thirdly, it's a convenient way to grow an e-commerce business with a minimum starting budget.
How to Make Money Dropshipping?
Like in any other form of commerce, the income in a dropshipping business is formed by a margin. Dropshippers profit on the difference between the wholesale and retail prices of the goods they sell. On top of the wholesale price come other business expenses. For example, if you need to hire employees, then payroll and payroll tax expenses will add up.
Most dropshipping business owners make around 10%-15% profit. Ideally, you want a profit margin of at least 40% after shipping costs, fees, and taxes, but you should be aiming for margins of 100% or more.
Some additional expenses your dropshipping business will incur:
Dropshipping fees
E-commerce platforms fees
Sales taxes
This list of business expenses is not exhaustive. When you are running a dropshipping store, you mainly focus on marketing and customer acquisition. The amount of work needed to sell a $20 item is quite similar to selling a $1,500 item. So, it will be more profitable to choose a niche with higher-priced goods (if you can market them, of course).
You will need to keep detailed accounting records and make accurate calculations to keep track of the difference between your net and gross income that forms your profit.
Software programs like Synder automate receiving online payments from multiple sales channels simultaneously. More concerned about accounting for all these payments and taxes? Don't worry. Synder will simplify accounting too.
How Does Dropshipping Work?
So, you have decided that dropshipping suits you perfectly. That's great! Time to learn even more about the dropshipping business. The biggest question you have by now is probably: If a dropshipping store does not keep and deliver products, how does this business operate?
In brief, dropshipping works in the form of supply chain management. In this chain, a dropshipping store is responsible for attracting a customer and closing the deal.
5 things your dropshipping business should do:
Showcase products on a website or marketplace.
Advertising, social media promotion, online marketing.
Accept online orders, providing a checkout experience.
Transfer orders with shipment details to a supplier.
Communicate with customers, processing returns and refunds.
Dropshipping Business Model
Dropshipping stores attract clients, take their orders, receive payments online for the goods the shoppers want to buy, and then transfer these orders with full shipment details to a dropshipping supplier. A dropshipping supplier processes orders, packs, and ships purchased items to customers.
Here's what a business process for your dropshipping business will look like:
A customer places an order and pays for the products on your online store.
You transfer the order and shipping information to your dropshipping supplier.
Once the order is received, the supplier bills you for the item ordered.
You pay the price, which usually includes wholesale plus a dropshipping fee.
The dropshipping supplier packages the goods and ships them directly to the customer.


The Role of Dropshipping Suppliers
When you run a dropshipping business, you don't deal with the products you sell. You may order sample items for a catalog photoshoot. But apart from that, you never actually hold the goods in your hands. All things connected to physical inventory are performed by dropshipping suppliers — or dropshippers.
What dropshipping suppliers do for you:
Manufacture the goods
Quality control
Store goods in warehouses
Inventory management
Packing and shipping
As you can see, a significant part of the dropshipping business process is outsourced to third parties. Your online business will depend on them to complete the order fulfillment steps from receiving, processing, packing, picking, and shipping an online order to customers. That's why the suppliers need to be trustworthy and reliable.
How To Start Dropshipping: 5 simple steps
No two businesses are exactly alike. There will be something unique about yours too. But generally, to start a dropshipping business, you need to complete these 5 simple steps.
Here they are:
Figure out your niche
Choose which products to sell
Pick a platform to sell on
Find a supplier
Decide on a shipping method
1. Figure out Your Dropshipping Niche
To connect with customers quickly, you need to be very specific about your niche. A niche is a segment of a market you want to take. It helps you understand, what you want to sell, what is unique about your product, and target your audience. Take a moment to think, what can be your dropshipping niche?
Don't choose a niche that is already saturated and dominated by big players. It will be challenging to promote your product and grow your business. To get noticed by the audience, be as specific with your niche as possible.
For example, toothbrushes are a niche in the hygiene market. Eco-friendly bamboo toothbrushes are a specific niche of the toothbrushes niche.
How to find a perfect dropshipping niche:
Select an area of your interest. If you are running a business where you should focus on selling and advertising, it is best to be passionate about it.
Do supplier and competitor research. Find out if the products you aim at are available for dropshipping and that no major brand has already taken the niche.
Scratch an itch. Look for problems that you can solve, how you can stand out from competitors, and create a unique offer that will attract online shoppers.
Make sure people want it. You need to know that people are interested in what you want to offer. Use the Google Trends tool to check what people are searching for.
2. Best Dropshipping Products to Sell
In theory, you can sell anything online. Still, some products are more suitable as they are easier to work with and bring more money to your bank account.
When choosing the best dropshipping products, look for something that is:
Small and lightweight. You don't want those shipping fees to eat up the margin, right?
Evergreen. Non-seasonal goods will ensure your business brings cash flow year round.
Priced $15-200. This "sweet spot of e-commerce" warrants a good margin and demand.
Scarce, unavailable locally. If people can easily buy it down the street, why would they order it online?
3. Choose a Platform for Dropshipping
There are plenty of online platforms today that are suitable for dropshipping. The right selling platform is crucial to the success of your online business. But which platform will be the best for your product and your audience?
You have 4 options to choose from:
Sell on popular marketplaces like Amazon, eBay, and Etsy. Probably, the most popular choice when just starting. It is easy for everyone, regardless of their previous experience, to set up an account and start selling online. The well-established marketplaces already attract a tremendous amount of traffic globally.
Build your own e-commerce site on Shopify, Magento, or BigCommerce platforms. Best for those who want to build a brand and have more control over design, user experience, and analytics. It is the ultimate option for building a recognizable company and long-term relationships with customers.
Sell on social media: Instagram, Facebook, TikTok, etc. Selling on social media is perfect for people who have an audience and massive followership. It is also suitable to test business ideas and start selling online quickly. For example, Synder can help you get paid on Instagram easily. Just put a payment link in your bio, leading followers to a credit card payment page. Try it now!
A combination of sales channels. E-commerce trends oblige sellers to offer customers the omnichannel shopping experience. Maybe you won't need all of the above. But it's a good idea to test and see what channels work best for you and your audience.
4. Find a Dropshipping Center
Partnering with the wrong dropshipper can cost you a fortune. Finding the right dropshipping center is essential for your business to operate smoothly and have satisfied customers. After all, you entrust this company with your reputation.
First of all, understand who can perform as a dropshipping center for your business:
Manufacturer
Wholesaler
Another retailer
Fulfillment house
Then carry out research and choose mindfully. A good dropshipping supplier should:
Offer dropshipping as a service. Some companies are simply wholesalers or manufacturers. Make sure the supplier you are contacting is a dropshipper.
Have proven experience and endorsement. As far as dropshippers take on a lot of responsibility, you want to be confident that you can count on them at all times.
Provide fast shipping and low fees. You would probably want to offer your customers free shipping and get their items as fast as possible.
Have quality product photos. The supplier should ideally have high-quality images, so you can see the product and use the photos in your product descriptions.
Send product samples. Always request product samples to test the quality of items before signing a contract with a supplier.
5. Pick a Preferable Shipping Method
As an owner of a dropshipping business, you have little to no control over the quality of the products you sell. However, you can have more flexibility in choosing the way your goods will be packed and shipped.
Pick a shipping method:
Blind shipping. Shipping products without a return address corresponding to the seller.
Private label shipping. Having items shipped from the wholesaler with a return address customized to your company.
Fulfillment house. With an ultimate order fulfiller, you might also get a customized packing slip, including details such as your company name, logo, and contact information.
Is Dropshipping Worth It?
Many people start a dropshipping business but quit shortly afterward. One of the reasons is a lack of persistence and determination. If it is so easy to lose motivation, is dropshipping worth it?
Indeed, this type of e-commerce is not for everyone. Dropshipping almost seems too good to be true, with claims of easy profits and effortless sales. And quite often, it is. However, you can profit as long as you understand the risks and stick to a thought-out financial plan.
Pros and Cons of Dropshipping
To understand if the dropshipping business is right for you, you need to weigh all the pros and cons.
Here's a little prompt.
| PROS of Dropshipping | CONS of Dropshipping |
| --- | --- |
| You just need a computer and an internet connection to get started. | Little or no control over product quality. |
| No big starting budget is required. You don't spend a lot of money on purchasing goods until the customer pays for them. | Order fulfillment and shipping delays are beyond your control. |
| No workforce and time spent on packing and shipping tasks. | The need to invest in online marketing and promotion. |
| You don't have to allocate a budget for maintaining a warehouse and storing goods. | Discover the best pricing strategy and carry out the sales strategy. |
| No inventory management is needed. | Putting extra effort into creating an attractive online catalog and checkout user experience. |
| A dropshipping business needs fewer people hired to operate correctly, as a big part of work is done by dropshipping centers or automated by software. | Frequent returns. Online shoppers return around 20% of all online purchases. With the potential unreliability of dropshipping suppliers, you may find that your products are returned more frequently. |
Final Thoughts
To summarize, dropshipping implies selling products online without actually handling its fulfillment and shipping. This business has a low barrier to entry, which allows both novices and professionals to pick a niche and run their e-commerce store.
Choosing a niche is the first step to start a dropshipping business. The rising popularity of this type of trade makes it harder to find niches that aren't already saturated. However, the demand for online shopping is growing progressively, and the opportunities are almost endless.
So, is dropshipping worth it? The answer will vary depending on your goals, skills, and preferences. Just the fact that dropshipping is popular doesn't mean the dropshipping model is the right fit for you. But it can generate revenue when the resources are limited.
Knowing how much your business makes is essential for financial planning. The right digital tools like Synder will make things easier for you. Try Synder now. It's free to test!