Last year the USA government launched the Paycheck Protection Program. It includes a money aid, or PPP loan, for small businesses to cover payroll expenses when no revenue hits the balance. It was deployed as a fully-forgiven financial aid to retain employment: if you applied for a PPP loan and met all the requirements, you are not responsible for any payments.
As of February 2021, the SBA had approved 6,913,622 PPP loans totaling $640.3 billion. Unfortunately, not all the businesses that applied for and received PPP loans managed to fulfill those conditions. Not all of the details of the requirements for PPP loan forgiveness were clear till the present. However, the Paycheck Protection program continues to unfold, drawing more and more government funding and allowing small businesses to get aid for the second time.
This article will give you an overview of new rules in the PPP loan forgiveness legislation. You will understand better what these updates can mean for your business. And, hopefully, find out the answer to the question: "Will I have to pay anything for my PPP loan?"
Contents:
Changes to the PPP loan guidelines in 2021
The Coronavirus Aid, Relief, and Economic Security Act (CARES Act) established a Paycheck Protection Program (PPP) on March 27, 2020. The program aims to provide covered loans — loans 100% guaranteed — to assist businesses adversely affected by the Coronavirus Disease 2019 (COVID-19) and help keep people at work. The Small Business Administration (SBA) announced that PPP loans will have a two-year term at a 1% interest rate and that PPP loan payments will be deferred for six months.
A great deal during hard times! In 2021 alone the SBA has already approved over 1,701,494 PPP loans totaling $115.3 billion. Despite the immense popularity of the Paycheck Protection Program, a lot of criticism has followed since the day of enablement.
The arousing discontent forced the government to continue reviewing and changing PPP loan legislation throughout the spring, summer, and fall of 2020. The process has not stopped in 2021 either!
The biggest problem with the Paycheck Protection Program was unclear IRS policies on tax deductions. Many complaints were connected to allegedly prioritizing larger enterprises in funds rather than small businesses. Luckily, the government has passed amendments to PPP legislation in 2021. They finally clarify the most painful points in the loan program rules.
As of February 2021, the main changes PPP loan guidelines have gone through are
more funding to small businesses and sole proprietors,
acknowledging PPP loans as income-tax-free,
accepting tax deductions on the expenses covered with a PPP loan,
giving Employee Retention Credit to businesses with PPP loans,
allowing the second draw of a PPP loan.
Probably, the most outstanding issue with the Paycheck Protection Program was the deductibility of expenses paid for with the forgivable loan. Let's take a closer look at it in the next chapter.
As the news continues to roll out, make sure you keep track of the PPP loan updates on the SBA site.
Are business expenses paid with PPP loans deductible?
The short answer is YES. But the real answer is a bit longer than that. Let's dive into the details.
The PPP forgiveness process has been a hotly discussed topic on Capitol Hill since the day the CARES Act was enabled. Previously, businesses were not supposed to deduct the expenses paid for with PPP funds. Since the loan is forgivable and not taxable income, it was considered as double-dipping or obtaining an income from two different sources. For many SMB owners, this would lead to adverse tax consequences.
Finally, the Administration has revised PPP loan forgiveness and updated certain application guidelines. As a result, a great deal of the ambiguity in this question disappeared. Now it's official that if you used your PPP to pay business expenses that are normally deductible, such as rent and utilities, you can take those deductions as usual. Thanks to the new amendments more small businesses will be able to benefit from getting the PPP loan aid, and not face ugly tax bills.
So what's the problem? There is no automatic adaptation of this provision on the state level. This means, not all states have passed the same legislation. To fully conform with the nontaxable PPP loan forgiveness, a state must adopt the most current Internal Revenue Code (IRC) as well as conform to the amendments. While some states fall into a bucket of rolling conformity, which means that they will adopt the most recent IRC as it becomes available, others – such as New Jersey, Mississippi, and Arkansas – will selectively pick and choose the provisions that they will or won't adopt at the state level.
What does it mean for you as an SMB owner? It means that if you live in a state with selective conformity to the IRC, there remains uncertainty on whether you'll be able to get tax deductions on those electricity bills you paid with a PPP loan. Although PPP loans are fully tax-exempt at the federal level, make sure to check your state's local agencies on the matter. 
New PPP loan requirements in 2021
Here's what's new and most important to know about the PPP loan requirements as of the beginning of 2021.
Extension of the covered period. The period covered by a PPP loan extends from August 8, 2020, to March 31, 2021. You can also select PPP loan forgiveness covering a period of either 8 weeks after the loan's origination date or 24 weeks after the loan's origination date regardless of when the loan was disbursed.
Possibility of getting a PPP loan for the second time. If you have fewer than 300 employees and can document quarterly revenue losses of at least 25% in the first, second, or third quarter of 2020 relative to the same quarter of 2019, you can receive a second-draw PPP loan. The amount of the loan is up to $2 million.
A simpler application form. If your loan is $150,000 or less, you will have a simplified loan forgiveness application process. It includes an application form that is not more than one page in length. You are only required to provide:
a description of the number of employees the small business owner was able to retain because of the loan,
the estimated amount of the loan spent on payroll costs,
and the total loan amount.
Keeping the records for compliance. The SBA holds the right to review and audit your loan for fraud even if it was already forgiven. It means you may need to attest that you complied with all PPP loan requirements at any time in the near future. To be precise, it's necessary to retain relevant employment records for 4 years following submission of the form and other relevant records for 3 years. Reporting of demographic information is optional. Make sure you're tracking your expenses in business accounting software so your accountant can easily refer to them when it's time to file.
Three main PPP loan forgiveness rules
Before diving deeper into the details of the Paycheck Protection Program forgiveness requirements, let's understand 3 main things about the loan forgiveness application first.
PPP loans are not forgiven automatically. You should apply for loan forgiveness using appropriate application forms and within established deadlines.
PPP loan forgiveness application forms differ depending on your business type and whether it's your first or second application.
Businesses have to provide documentation to support their claims on forgiveness applications. All PPP loans are undergoing an automated review, and all loans of $2 million or more undergo a manual review. Besides, any loan may be selected for a manual review at any time.
So what is loan forgiveness anyway? And what are the rules that guarantee it? Here's what the SBA says:
"As long as a borrower submits its loan forgiveness application within ten months of the completion of the Covered Period (as defined below), the borrower is not required to make any payments until the forgiveness amount is remitted to the lender by SBA. If the loan is fully forgiven, the borrower is not responsible for any payments."
Great! But what if not the whole amount of a PPP loan is forgiven?
"If only a portion of the loan is forgiven, or if the forgiveness application is denied, any remaining balance due on the loan must be repaid by the borrower on or before the maturity date of the loan."
Is the repayment of the loan subject to interest rates?
"Interest accrues during the time between the disbursement of the loan and SBA remittance of the forgiveness amount. The borrower is responsible for paying the accrued interest on any amount of the loan that is not forgiven."
Links to save:
PPP loan forgiveness application forms and instructions
Calculations and documentation for the first PPP loan
Calculations and documentation for a second PPP loan
Who can apply for PPP loan in 2021
The news for small businesses has been great! The updated guidelines for the Paycheck Protection Program now allow businesses a second chance to get financial aid, provided they can show losses of 25% or higher in 2020 compared to their 2019 revenue.
For most small business owners, the maximum loan amount of a Second Draw PPP loan will be 2.5x average monthly 2019 or 2020 payroll costs up to $2 million. For businesses in the Accommodation and Food Services sector, the maximum loan amount for a Second Draw PPP loan will be 3.5x average monthly 2019 or 2020 payroll costs up to $2 million.
A small business owner can apply for a second PPP loan in the following cases:
Previously received PPP loan has used the full amount for the authorized uses.
A business has no more than 300 employees.
A business demonstrated at least a 25% reduction in gross receipts between comparable quarters in 2019 and 2020.
Links to save:
PPP First Draw Borrower Application Form
PPP Second Draw Borrower Application Form
PPP loan application deadline in 2021
If your business has not received a PPP loan in 2020, both first and second draw PPP Loans may be available to you in 2021. These loans, just like the first round, may qualify for full forgiveness. The application deadlines have already been announced. SBA and the U.S. Treasury Department reopened the Paycheck Protection Program. Small businesses will be able to apply for PPP loans until March 31, 2021.
Note: The Administration undertook additional measures to reach the smallest businesses. If you didn't apply the first time because you thought your business was too small, now may be the time to consider it! But pay attention, because the established PPP loan application deadlines slightly differ for these cases. The SBA will offer PPP loans to businesses with 20 or fewer employees and sole proprietors only from Wednesday, February 24 through Wednesday, March 10, 2021.
Update on business costs eligible for PPP loan forgiveness
When the Paycheck Protection Program was first introduced, it obliged businesses to spend 75% of the loan amount on the payroll. The remaining 25% didn't cover many crucial operational expenditures crucial for small businesses. Luckily, the numerous rounds of amending the Paycheck Protection Program rules introduced the desired updates.
Today, to achieve full PPP loan forgiveness, a small business owner should follow the rule of 60 percent.
It means that 60% of the loan amounts must go to payroll payments during the period covered by the loan. But there are other costs eligible for forgiveness as well. They are called non-payroll costs. Eligible non-payroll costs can't exceed 40% of the PPP loan forgiveness amount. However, not all of the non-payroll costs are eligible.
Here's a useful table we made to get a quick overview of both payroll and non-payroll costs eligible for PPP loan forgiveness. Save it on your device to take a look when needed!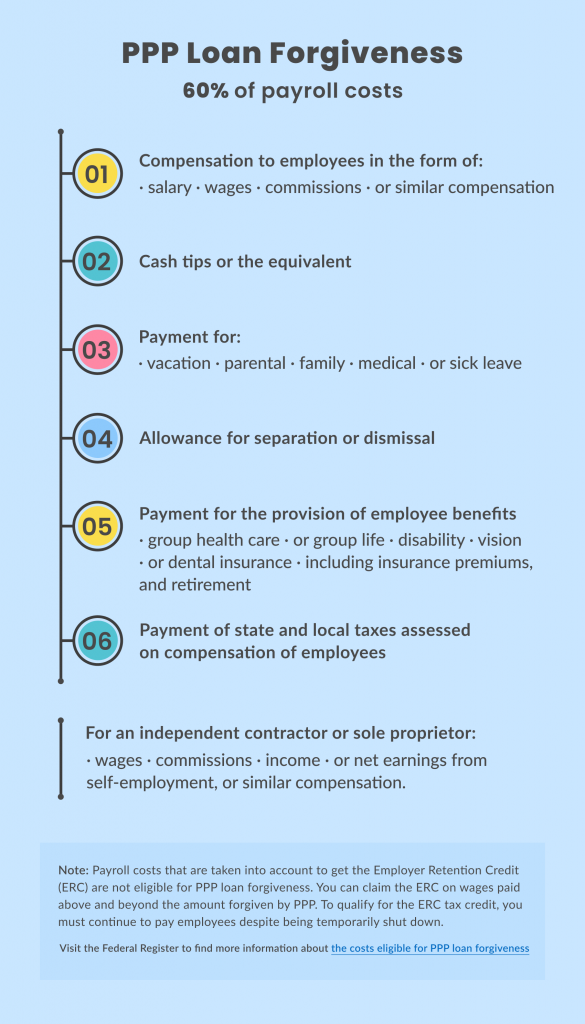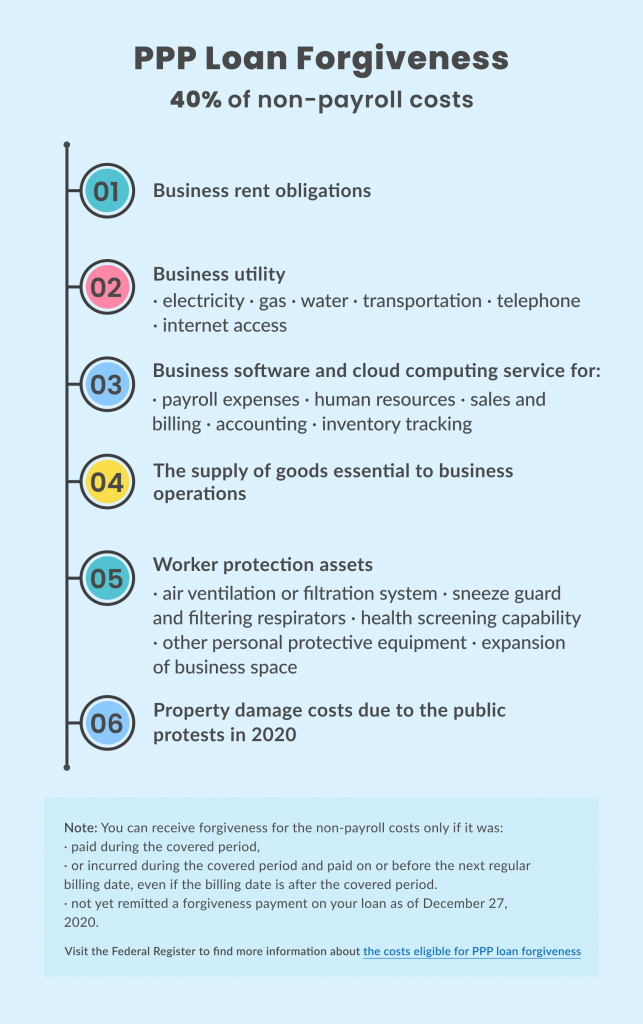 Make sure you keep to the requirements strictly. Keep all the records accurate in case your forgiveness application gets audited. If you don't provide supporting documents, you will have to repay the unforgiven part of the PPP loan with accrued interest.
Visit the Federal Register and find more information about the costs eligible for PPP loan forgiveness. Consult a professional accountant or your local authority to get even more detailed answers.
Bottom Line
Whether or not you took out a PPP loan last year, consider applying for the second round. If your business continues to struggle because of the pandemic in 2021, getting a PPP loan could become a relief. More small businesses and sole proprietors will get loan funds this year under the Paycheck Protection Program. But be careful, since businesses with 20 employees or fewer have slightly different PPP loan application deadlines.
As the legislation continues to develop, there may be other news on the program coming in the nearest future. Check the SBA site and contact your state regulators to get the latest updates. Some new PPP loan forgiveness rules may have a serious impact on your business!