Many QuickBooks users need to report PayPal sales and expenses in their books. When doing so, businesses and accountants face several challenges.
For example, if PayPal is connected in QuickBooks banking, users often experience update issues. They can result in missing transactions, (including refunds and expenses), and an inability to reconcile your bank account without additional edits. The manual import also makes it difficult to account for PayPal expenses, refunds, and create sales receipts. It's also highly prone to error and requires a lot of time to fix any mistakes.
Keep reading to learn how to introduce a smart PayPal QuickBooks integration into your workflow. It will help you get accurate, real-time reports on sales made via PayPal, ensure an efficient reconciliation without a need to re-check or add anything manually, and is perfect for e-commerce businesses with many transactions, categories, and a need for customization.
Contents:
1. Connecting PayPal to QuickBooks for an uninterrupted flow of concise data in real-time
Experienced accountants recommend making sure you have no similar PayPal solutions integrated with your QuickBooks file, as this can lead to duplications. While testing a solution, you can check if you have other PayPal apps connected and disconnect them following these steps:
Log in to your QuickBooks Online account.
Click on Apps on the left side of your screen and go to the My Apps tab.
If you see any other PayPal apps connected, click on Action → Disconnect → Confirm Disconnect.
Once you've made sure there are no other PayPal apps connected to your file, try using the most highly rated solution available to QuickBooks users: a 900+ five-star app Synder. It doesn't require a credit card to start a free trial, and you can test how it works before subscribing to a plan.
Continue reading to learn why top professionals in the field find Synder helpful in increasing the accuracy of the bookkeeping process, saving time and money, and avoiding manual checks and edits of the PayPal data.
How to start:
Search for Synder in the My Apps tab in QuickBooks, and connect it to your file.
Open the app to connect a new payment platform. You can start with PayPal, and connect other payment platforms* later if needed.
This will allow for an uninterrupted flow of data, without you needing to update the app. Synder is designed to facilitate proper reconciliation and categorization and includes professional customization options.
Learn more about connecting Synder to your QuickBooks file.
Find additional information on connecting PayPal to QuickBooks.
2. Syncing PayPal transactions with QuickBooks, keeping all necessary details
Most QuickBooks users would like to avoid having to manually import, create, or update PayPal transactions. Within Synder, you can choose between syncing necessary transactions or enabling the auto-sync feature. The auto-sync brings all transactions into QuickBooks in the background.
Transactions will come in properly categorized and will account for PayPal expenses, refunds, and other important financial data, such as taxes, discounts, shipping, and more. They will also contain customer and product information.
Any transaction sync can be undone in a click thanks to the Rollback feature, and no duplicates are allowed in.
Bonus point: With all of your PayPal sales brought in in the background, you can access a sales report at any time directly in Synder. Your income statements will also be updated in QuickBooks with all sales transactions present. This solves the problem of inflexible reporting in PayPal.
Learn more about automatic synchronization of PayPal + QuickBooks transactions synchronizations.
Learn more about the reporting feature in Synder.
Check out our video guide explaining the sync process below:
3. Recording PayPal fees in QuickBooks
One of the most widespread issues with recording PayPal transactions in QuickBooks is accounting for the fees paid to PayPal. It's important to avoid discrepancies. If you don't account for the fees, the amount of PayPal sales will not correspond to payouts made to your bank.
Synder creates a sales receipt (or an invoice, if it's missing from your books, and an invoice payment) + an expense to account for the fee for every PayPal sales transaction.
All PayPal fees will be properly categorized by default. If you simply sync your sales with QuickBooks Online using Synder, PayPal fees will be stored as a fee expense.
When you connect PayPal to QuickBooks using Synder, you can use the recommended setup. This way all PayPal fees will be recorded in your QuickBooks Chart of Accounts under Expenses – Commissions and Fees – PayPal fees.
You can also choose your own category for the fees to be assigned to when first setting up the app. If needed, you can always also go back to Synder settings later.

This will ensure that your gross sales amount is always recorded, and then a fee is taken out of it. A sales receipt and a separate expense will be created in your books for a perfect reconciliation. All of it will be done automatically.
4. Distinguishing PayPal revenue types in QuickBooks
Business owners pay a great deal of attention to maintaining a clear Profit & Loss report in their QuickBooks file.
Synder brings in all available product data into QuickBooks. If the names of products are spelled in an identical way in QuickBooks and PayPal, the app will find matching products and assign new transactions to correct product income accounts. If you have similarly spelled names in PayPal and QuickBooks, you can set up smart rules using the Product Mapping feature for Synder to recognize the same product spelled differently.
If you don't need to store individual product information, you can enable a generic product name. With it enabled, all transactions will be assigned to the same income account in QuickBooks.
Similarly to keeping the product info, you can bring in information about customers. The app will be able to recognize existing QuickBooks customers or create new ones.
If you don't want to keep individual customer information, you can enable a default customer name. With it enabled, all sales transactions will be assigned to the same default customer. Enable it by going to Settings → Sales → Apply default customer.
Learn more about product settings in Synder.
Learn about distinguishing PayPal revenue types in QuickBooks from the video below:
5. Categorizing PayPal expenses in QuickBooks to save hours of time each week
PayPal fee is treated by QuickBooks as an expense, and we've discussed how it can be properly categorized in QuickBooks.
However, many business owners also cover various business expenses via PayPal. Accountants often have to spend many hours a week organizing different expenses into correct categories. In order to help automate this process, Synder includes a smart rules feature, allowing its users to automatically categorize expenses.
Learn more about setting up smart rules for auto-categorization of PayPal expenses.
6. Recording PayPal deposits in QuickBooks for an effortless account reconciliation
Synder users can have their PayPal deposits (payouts) automatically synchronized with QuickBooks, without creating a duplicate in the bank feed.
In order to enable this setting, complete the following steps:
Open the Settings in Synder → Payouts → Process payouts → Yes.
Select your Checking account in which the actual PayPal funds are deposited from the dropdown menu.
This process replicates the actual flow when money first hits your PayPal account and then is transferred into your checking account. In this instance, it's done for bookkeeping purposes.
Having Payouts enabled allows you to skip an extra step in the reconciliation process. This way, your transactions will already be pre-matched, so when you need to reconcile your checking account all you need to do is click on Match in your For Review list in QuickBooks.
Learn more about a simplified reconciliation process and recording PayPal deposits.
7. Importing PayPal refunds into QuickBooks
All PayPal refunds need to be recorded in your books for a proper reconciliation, P&L reporting, and tax filing.
Synder recognizes refunds, syncs them with your QuickBooks file, and creates a refund receipt, allowing for full transparency in your books.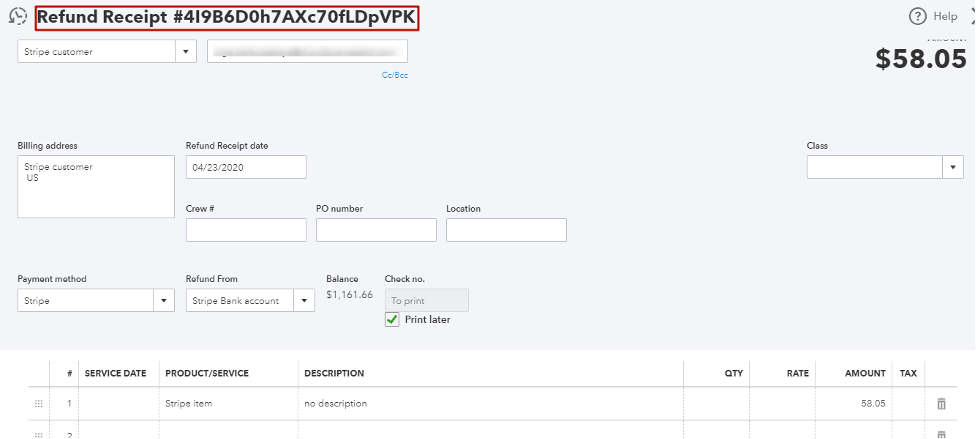 Learn more about recording PayPal refunds in QuickBooks automatically.
8. Reconciling PayPal transactions in QuickBooks at ease
With your PayPal transactions going directly into QuickBooks you can anticipate an easy reconciliation process. You can also use the Import Old Transactions option to bring in historic data.
What's particularly important is that all fees, refunds, and deposits have been properly imported into QuickBooks, replicating the actual money flow.
You can open the For Review tab in your checking account to click Match on pre-confirmed matches. Once it's done, you can easily reconcile your checking account.

Learn more about reconciling PayPal transactions in QuickBooks.
9. Matching PayPal receipts to open QuickBooks invoices to save time
Experienced accountants know that it's important not just to create sales receipts and invoice payments in the books. Open invoices must be matched to corresponding payments.
Synder features a setting allowing open invoices to be automatically closed once an invoice payment is detected. Enable it by going to Settings → General → Apply payments to unpaid Invoice/Bill transactions → Update.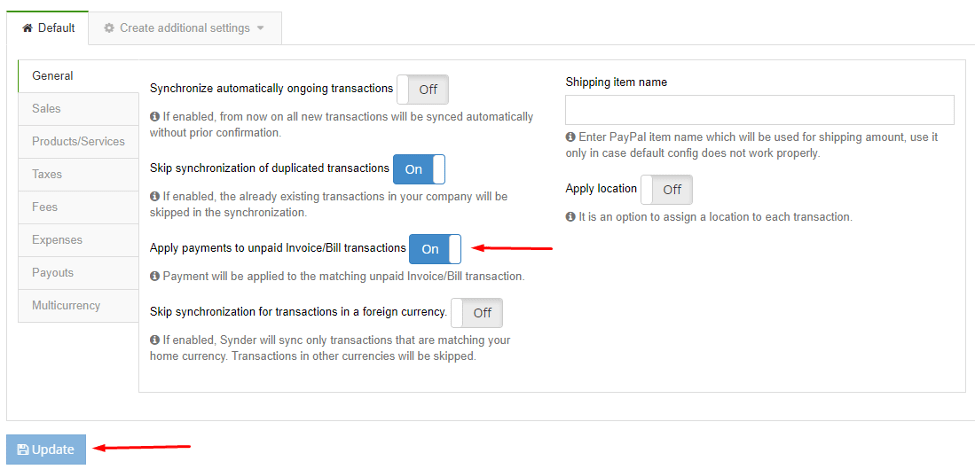 Learn more about matching PayPal receipts to open invoices in QuickBooks in the video below:
Conclusion
Synder is a smart software that has been created with accountants and e-commerce businesses in mind. It allows its users to seamlessly integrate PayPal with QuickBooks, keeping precise records about all sales and expense transactions. The accuracy of Synder allows you to maintain accurate reports, be ready for tax filing, and perform the bank reconciliation in several easy clicks.
You are welcome to test Synder free with the 10 syncs provided (no credit card required). Our dedicated support team is there for you via in-app chat, phone, and email in case you have any questions.
Further reading
Are you an e-commerce accountant? Learn how Synder can help you manage multiple clients from one app here or watch our webinar.
Do you need further customization? Learn how to customize settings even further to tailor them to your needs.
*Synder integrates QuickBooks with PayPal, Stripe, Shopify, Amazon, Square, eBay, Ecwid, and other payment gateways and e-commerce platforms.