In this article, we'll continue to go over some of the best Shopify apps so you can start benefiting from them today.
This is the second blog post in the series about the best Shopify apps to increase your sales instantly.
Don't forget to check out part 1 (about marketing apps) and part 3 (apps that will help with selling).
To make things easier for you, we've kept gathering the best Shopify apps on the market today to help you manage and run your business. These apps will help you boost sales, improve customer experience, and stay organized. Check them out below!
Contents:
AdRoll Advertising & Marketing
Veeqo ‑ Inventory & Fulfilment
Reveal: Customer Data Platform
Lucky Orange Heatmaps & Replay
Replay Live Session Recordings
The first things you would probably be interested in are the apps that will get you high ROAS rates. ROAS doesn't just measure how much you're spending to make money. It also measures how satisfied your customers are with your product (or service) as well as how much revenue these customers have generated for you.
So let's look through the best apps for easy advertising!
Shopify management app #1: Sixads (4.5 ⭐️)
Let sixads drive your sales while you get on with scaling your store!
Free to install. Paid plans available.
Sixads is an online marketing company that offers professional lead generation campaigns to enhance and increase your marketing presence in any industry, segment, or geographic market.
You can bring your products closer to millions of customers all over the globe: on Instagram, Facebook or Google.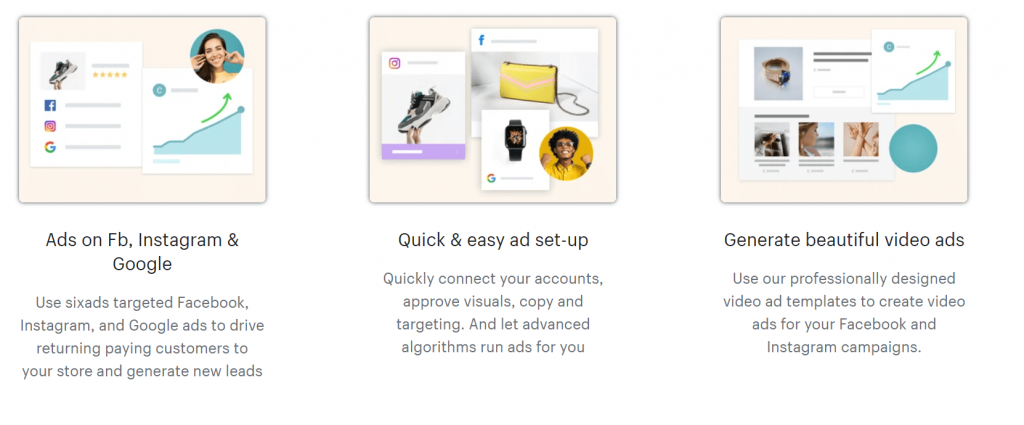 Sixads automates the process of uploading new photos, videos and copywriting for your store so you can stop worrying about manual work. While you're running your business, Sixads promotes the products here and there so that you can get more customers.
What you will gain:
Easy to use ad set-up
Personalized and targeted ads
Improvement and maximization of your advertisement options
A bigger audience exposure
Shopify management app #2: AdRoll Advertising & Marketing (4.6 ⭐️)
Do less. Get more. Grow faster.
Free plan + 30-day free trial available.
This software is an alternative to Sixads. AdRoll is a well-known ad management platform that helps make advertising more effective by helping to target audiences, optimize ad campaigns, implement personalized advertising, and measure return on investment.

AdRoll provides technology that helps merchants sell more, better and faster. It offers comprehensive and powerful solutions for highly customizable and effective online ad placement, lead nurturing, remarketing, sales analytics and more.
What you will gain:
A broader audience and strong relationships with the customers
Advanced tracking of your improvement
Brand awareness boost
World-class retargeting solution
Dynamic ads
Ads are really great, but most people just ignore them. Instead, they search for what they really need. And if you want potential customers to see you, you have to write a proper product description.
Such a description will sell the product, and your store will be on top in Google ranking, so your product will always be before customers' eyes.
Luckily for every e-commerce business owner there are a few apps on the Shopify App Store that will help you with the optimization.
Shopify management app #3: SEO Manager (4.7 ⭐️)
The best way to drive traffic to your store is by being on the front page of Google. Get found in Google with SEO Manager.
7-day free trial available. Then $20/month.
SEO Manager is a free Shopify app and a powerful tool that helps you boost your online ranking and improve your store conversion rates. It has many great features, including app marketing tools and educational sections, which make it a must-have tool for any store owner.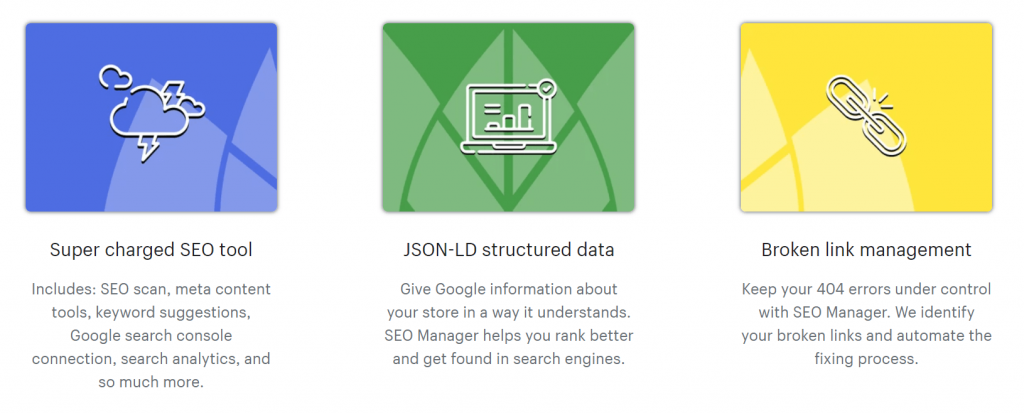 The Shopify SEO Manager app is specifically designed to help increase revenue through SEO, increase conversions through A/B testing, and help develop a compelling shopping experience for your customers.
What you will gain:
Editing of titles and descriptions
SEO and image ALT text issues scan
Advanced meta settings
Google knowledge graph support
Shopify management app #4: Plug in SEO (4.6 ⭐️)
Check SEO, fix & improve.
Free plan + 14-day free trial available.
Plug in SEO is a free app that makes it easier to launch a successful Shopify store. The app works by allowing you to view the search engines' SERPs, organize your blog posts, and check up on analytics. You can also make Google+, Facebook, and other store related posts available through the platform.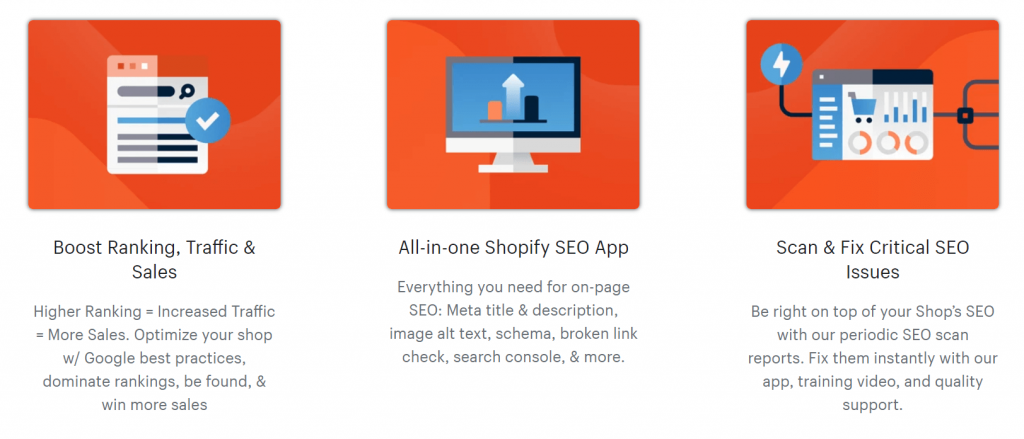 The app can also help you use better imagery, create a better responsive website, and boost your site's SEO. You can use these features in order to boost your conversions, increase your brand's visibility, and improve your site's ranking in search engines.
What you will gain:
Structured data
Keyword tool
Powerful title and meta description templating
Advanced features for SEO
Editing titles and meta descriptions for every page
Shopify management app #5: SEO Optimizer: All‑in‑one SEO (4.6 ⭐️)
Skyrocket your Shopify Sales with Booster Apps
Free plan available.
Get enhanced organic search results on Google and other search engines with SEO Optimizer. Google guarantees over 98% organic search. The SEO Optimizer app helps you to improve your search engine rankings.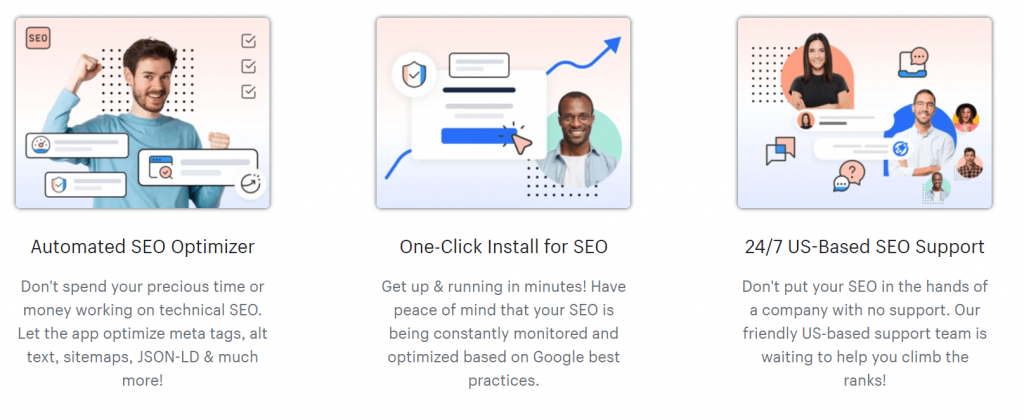 The app helps you manage SEO and SEO-related tasks easily and quickly. It can run in the background and can be launched instantly. The app can manage online content like webpages, blogs, pages, images, videos and taglines.
What you will gain:
Boost your image search traffic
Weakly SEO Healthy Reports
Better image size to simplify the load of your store page
Fixation of broken links
The next important step is inventory management. This is a real problem for a lot of e-commerce sellers.
Once you have a clear idea of what you have and what you need to stock up on, you can track your orders better and get paid on time, which is great for your bottom line. Check out these Shopify apps to manage your inventory like a Pro!
Shopify management app #6: Stock Sync ‑ Inventory Update (4.7 ⭐️)
Automate products & inventory import from almost ANY feeds
Free plan + 14-day free trial available.
When your stock is at an all-time low, your "sellers" are frustrated, and you're out of new products to sell, it's hard to remember exactly when you ordered some of your products.
Stock Sync is a free app, which helps you keep track of all the items in your store, including your stock. It's easy to use and it does a decent job.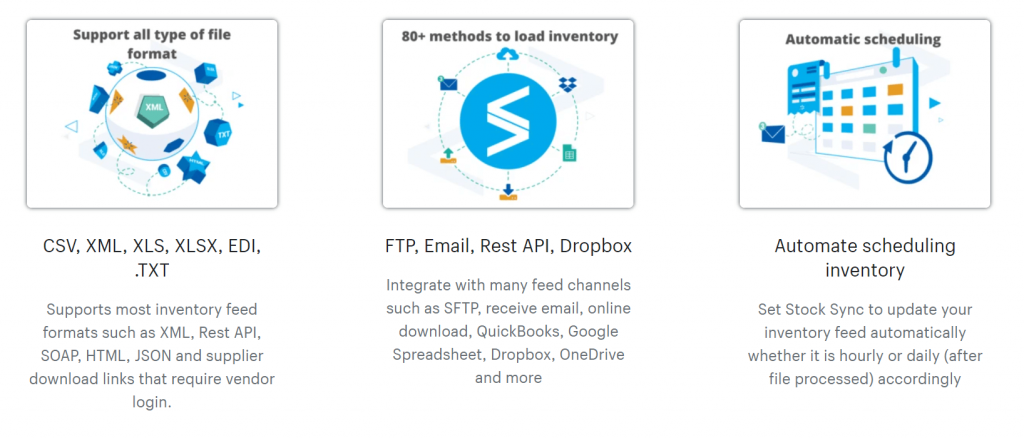 Stock Sync lets you create "sync orders" to automatically send all your new orders to your online store. You can manage your "sync orders" right from your Shopify dashboard, on the website, or on your mobile device. This easy, one-click-trick way to sync your orders can save you a lot of time and prevent missed orders.
What you will gain:
Automatic update of your inventory
Supporting of any file format
Quantity Rules that help you not to oversell
The power to include or exclude products from the feed
Shopify management app #7: Veeqo ‑ Inventory & Fulfilment (4.5 ⭐️)
Move faster with connected commerce.
14-day free trial available. Then from $195/month.
Veeqo is an all-in-one app for Shopify store owners who need to manage both inventory and fulfillment. In addition to the top-notch functionality, this app is very user-friendly and intuitive for anyone who is unfamiliar with the process of creating, managing and shipping orders.

On Veeqo, you can also track your vendors and suppliers. This will help you keep your business in check with all the third-party vendors. This app helps you track orders in real-time of all your employees and their deliveries, as well as makes it easier to add and update shipping labels and shipping addresses.
What you will gain:
Full real-time visibility of your inventory
Advanced shipping management
Tracking and audit of everything from multichannel sales
Warehouse management
It's essential to know what's happening inside your e-commerce business process. But you shouldn't forget about the customers either .
With special Shopify Apps you'll always be aware of what your customers care about and track their steps around your store page.
Shopify management app #8: Reveal: Customer Data Platform (5.0 ⭐️)
Ready to optimize your customer lifetime value strategy?
Free plan + 14-day free trial available.
Reveal is an app for Shopify merchants that allows you to build detailed profiles of your customers and provide powerful insights for achieving more sales and better experiences. The goal of this app is to help you capture, manage, and develop your customer data.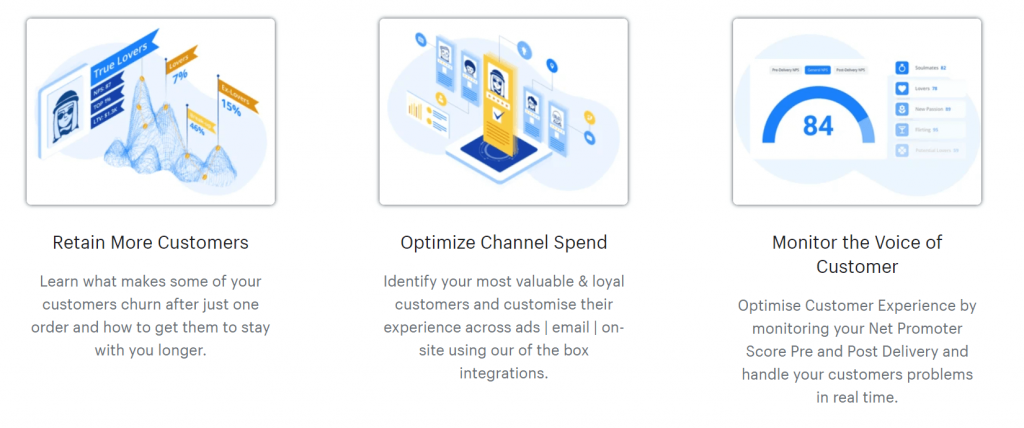 The potential of the Reveal: the Customer Data Platform is aimed to provide great insights into your customers and therefore, hugely grow your sales. Store, analyze and increase your Customer Lifetime Value!
What you will gain:
Advanced Buying Behavior Segmentation
Improvement of customer experience
Analytics of your products
High-performing product management
Shopify management app #9: Lucky Orange Heatmaps & Replay (4.7 ⭐️)
See everything they did before they left.
Free plan + 7-day free trial available.
Lucky Orange is a Shopify app that allows you to monitor your orders, review orders, and view your inventory. You can also add things like multiple location tracking, multiple shipping options, and geolocation, allowing for some really useful inventory management.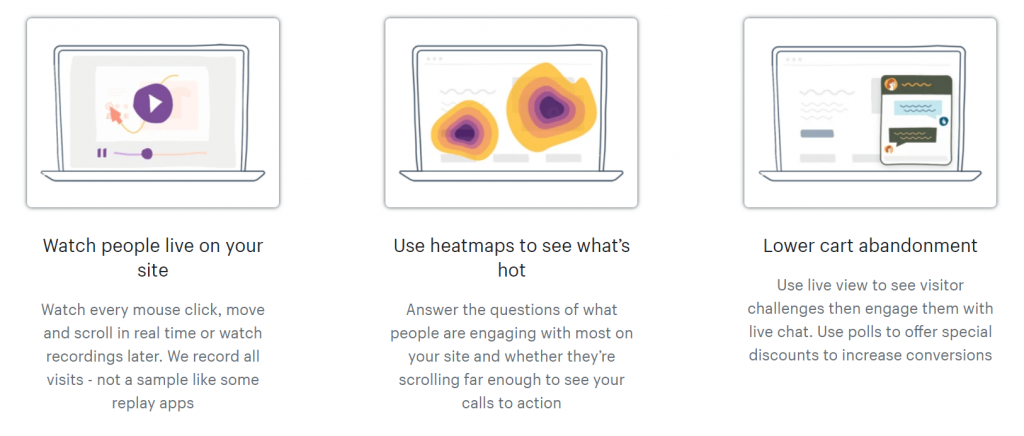 Lucky Orange displays heatmaps, heatmaps from archived orders, and resets. It does not do any coding, so it's pretty easy to implement in your store. All you have to do is make a couple of edits to your website and get Lucky Orange set up.
What you will gain:
Possibility to see people's literal activity on your page
Observing customers' actions in real time
Heatmap of your store page
Storage of overall traffic and segmentation that helps to see what actually works
Shopify management app #10. Replay Live Session Recordings (4.7 ⭐️)
Analytics can tell you what. Better Replay can tell you why.
Free plan available.
If your online store needs boosting, it's important to optimize your site. Replay Live Session Recordings makes it simple to get an idea of how visitors are interacting with your site. You can use this data to change the design and layout of your site.

Replay enables the store owner to see how many people have made a purchase and view each customer's details. On top of that, you can view a detailed breakdown of each transaction as well as complete reports. And with this, you'll be able to predict what products are going to be popular.
What you will gain:
Details about the browser, session length, location, and timestamp for each session
Understanding how users interact with your store
Ways of optimizing your store page
A bigger audience exposure
BONUS ✨
While managing your inventory, it is also essential to manage your sales to get the most accurate reports that will help you succeed on your sales channel. If you've started to shake your leg nervously — relax! Synder software is a perfect solution that is aimed to provide you with easy-to-use features to grow your business.
The unique feature is that you can connect as many sales channels and payment platforms as you want and store all your business information in one place.
Book a Demo to see how Synder software works and check out a Free Trial to find out about all the features yourself.
What you will gain:
The best experience
Accurate tracking of your income and expenses
Zero balance difference between your accounting platform and bank account balance
Start achieving the business growth you deserve with Synder software now!
Continue reading: part 1 || part 3
In the 1-st part you'll find 10 best apps for marketing
In the 3-rd part you'll find 10 best apps for selling