Manually you can import as many historical transactions from the payment system as needed (the time range of how far back you can go can vary based on your plan). Note: you are given 1 month of historical data import on a trial.
Please check out this guide to learn about Synder automatic synchronization mode.
 To import transactions from the sales platform do the following:
Select the Organization needed in the top left of the page.
Go to Transactions –> App transactions on the left.
Hit the Import historical data link in the upper right corner.
Select a Payment platform if you have more than one and specify the time range needed.
Click Import for review (to import transaction data to Synder) or Sync right away (to synchronize them to your QuickBooks/Xero)
1) Using Import for review you will import all the transactions for the selected time period and for the selected payment provider (if you have several connected) under the Transactions tab in several minutes. 
After the transactions are imported from your sales platform (Stripe/Square/PayPal/Shopify/etc.) to Synder (note your sync balance will remain untouched), you can review them and sync to QuickBooks/Xero (your sync balance will go down during the sync).
Select transactions needed (our filter is available to filter out the ones you need to sync) and click Sync under the Sync menu.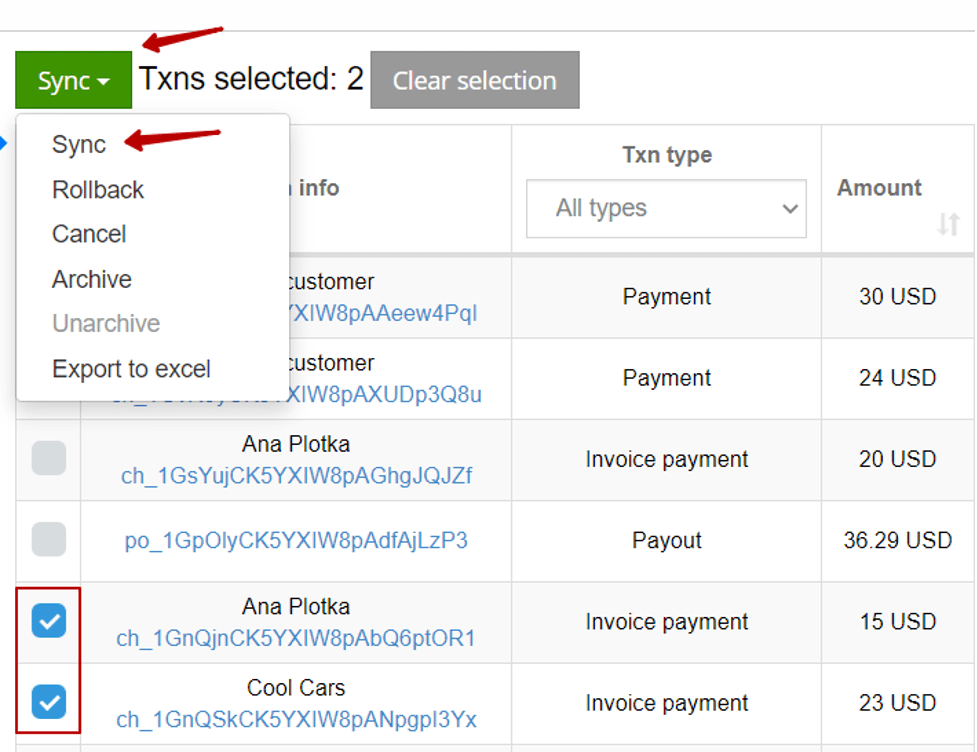 In order to mark all transactions per page use top selector (1), you can also change the amount of transactions shown per page (2). After all the transactions on the page are marked the option to "Select all transactions on all pages" (3) will appear. You will see the amount of the selected transactions in the "Txn selected" field.
(the result in your QuickBooks after synchronizing the transaction using Synder)

2) Using Sync right away you will synchronize data to your QuickBooks/Xero right away, under the Transactions tab you will see the "synced" status in several minutes, which means your books are updated.
Get in touch with the Synder team via online chat, phone, or email with any questions you might have so far – we are always happy to help you!
Was this article helpful?