Shampoo and conditioner, sneakers and socks, McDonald's Happy Meal – these are just a few examples of successful product bundles that sell like hotcakes. Want to have something similar and maximize your sales?
In this article, we'll discuss what product bundling is and what benefits it offers to businesses, consider product bundling strategies and methods you may use to create product bundles and sell them, as well as analyze what metrics to look at to measure how successful your e-commerce sales are.
Contents:
2. What do you need to know about a product bundle?
3. Why sell products in bundles?
4. Product bundling strategies: How to create product bundles and sell them?
5. E-commerce product bundling made easy: Collect the right metrics with Synder Insights
What is product bundling?
Product bundling is a marketing technique in which a business groups together two or more products or services and sells them as a single unit. Referred to as a package or product bundle, these products or services are usually grouped under one SKU (stock-keeping unit) code.
What do you need to know about a product bundle?
Bundles come in different types – a product bundle may consist of several items of the same product, or several different complementary products. Bundles are usually (but not necessarily) sold at a lower price than if the same products were sold individually.
Bundles can be sold offline and online, although the latter variant is more widespread – it's become a staple of e-commerce stores. Ultimately, product bundling encourages sales and increases customer engagement.
Why sell products in bundles?
Increased sales and customer engagement aren't the only reasons why bundles are so popular in e-commerce. Product bundling offers numerous benefits:
Clearing out old inventory and freeing up warehouse space. Product bundling is a great opportunity to sell unpopular products and reduce inventory waste. Choosing a good product bundling strategy solves all your problems. Why not bundle an unpopular item with a popular one and sell both?
Decreasing costs. Bundles allow for saving up on marketing and distribution costs as you have to deal with a bundle as a single item instead of a multitude of items. Packaging, shipping, marketing, stocking are just on top of that long list. That's a good way to increase your manufacturing performance!
Increasing customer average order value (AOV). Encourage your customers to buy more and increase your average order value and therefore your profits and sales. Bargains sell!
Increasing customer satisfaction. Providing good value at a reduced price makes customers feel appreciated and understood. When they know that their needs are satisfied and their customer experience is good, they come back to your store for more. A well-thought product bundle is a good way to show your customers that you care.
Benefiting from seasonal opportunities. Halloween and Christmas, as well as summer sales, for example, are peak times for product bundles. Create a product bundle your customers would buy again and again. Everyone's buying, your customers won't want to miss out!
Product bundling strategies: How to create product bundles and sell them?
If you're considering introducing product bundles into your e-commerce store, you might wonder where to start. Creating a compelling product bundle includes, but isn't limited to, choosing what products to group together and how to promote them. We've got a list of actionable steps that will help you to create bundles that sell.
1. Research your customers and their behavior.
How well do you know your customers? What do they buy and when?
Studying your customers may be educational. Analyze past sales and purchase behavior and find answers to these questions. Understanding what resonates with your customers and what makes them purchase specific products is a perfect place to start creating a successful product bundle and choosing a good product bundling strategy.
2. Create compelling bundles.
What products do your customers purchase frequently? What products do they avoid? What products can you group together to meet their demands and increase your sales?
When you know who your customers are and what they like/dislike, consider your inventory and look for complementary products that are likely to be in demand. Think about repeat purchases first – your customers have already bought these products from you, they're likely to need them again and come back to your store. E-commerce product bundling should be based on the analysis of your customers' preferences.
3. Choose the right product bundling strategies.
Do you want to sell complementary products, use seasonal bundling, adopt a buy-more-pay-less model, or maybe give subscription bundling a try?
Product bundling strategies matter for your performance, so make sure to give some thought to what suits your e-commerce store best.
Promoting complementary products in bundles is probably an old trick known to everyone, but other strategies mustn't be overlooked.
Seasonal bundling allows businesses to take advantage of specific occasions such as seasonal changes, holidays, personal celebrations. Bundles for beach season, Valentine's Day, or weddings will always be in demand. Create product bundles that resonate with your customers and they'll come back for more!
Buy-more-pay-less bundles are perfect if customers already like your products. When they know that they can purchase the items they like in larger quantities or as part of a collection and save some money, in most cases they'd choose a product bundle.
Subscription bundling kills two birds with one stone – lets you sell more and stay in touch with your customers. For example, if you're selling cosmetics, you might want to consider selling beauty boxes (monthly, quarterly, etc.) to keep your customers interested.
And these are just a few of the e-commerce product bundling strategies you may use to create product bundles and increase your sales!
4. Offer discounts and showcase the value.
What's the best price for this item?
Customers are always looking for bargains and if there's an opportunity to save some money with a product bundle, they'll take it. Make your bundles more appealing by offering small discounts and comparing the price of individual items to a bundle. Create product bundles that showcase the value to your customers. Let them see the difference and make the right decision.
5. Choose the right strategy to sell your bundles.
Are bundles the only option to buy the products? Where should bundles be displayed?
The right product bundling strategy doesn't end at creating a product bundle. Think about when and how you can offer bundles and improve customer experience.
Customers like to be in charge, that's why bundles should be optional. They have to be able to choose whether to buy individual products or bundles. Options matter.
Displaying recommended bundles at the checkout page of your e-commerce store is a good move, as a customer has already decided to purchase the item. That's your opportunity to cross-sell.
6. Measure your product bundling efforts.
How successful are your bundles? How do they affect your profits?
E-commerce product bundling is meaningless if you don't measure your efforts. Keeping track of customer and product KPIs allows you to make data-driven decisions affecting your bottom line.
E-commerce product bundling made easy: Collect the right metrics with Synder Insights
Measuring the performance of your e-commerce business in general and the performance of your product bundling strategies is not an easy task. But with the right accounting software even the most sophisticated indicators can be acquired in a matter of minutes.
Synder Insights is a comprehensive solution to successful product bundling for your business. The tool offers a set of actionable and clickable reports on the vital metrics necessary for accurate evaluation of how well your e-commerce business is performing, as well as how effective your strategies are. The insights allow you to create product bundles that sell, choose the best product bundling strategy for your store and find solutions to the most complex issues easily!
With Synder Insights, researching your customers is effortless. The metrics are grouped to make gathering insights as simple as ABC.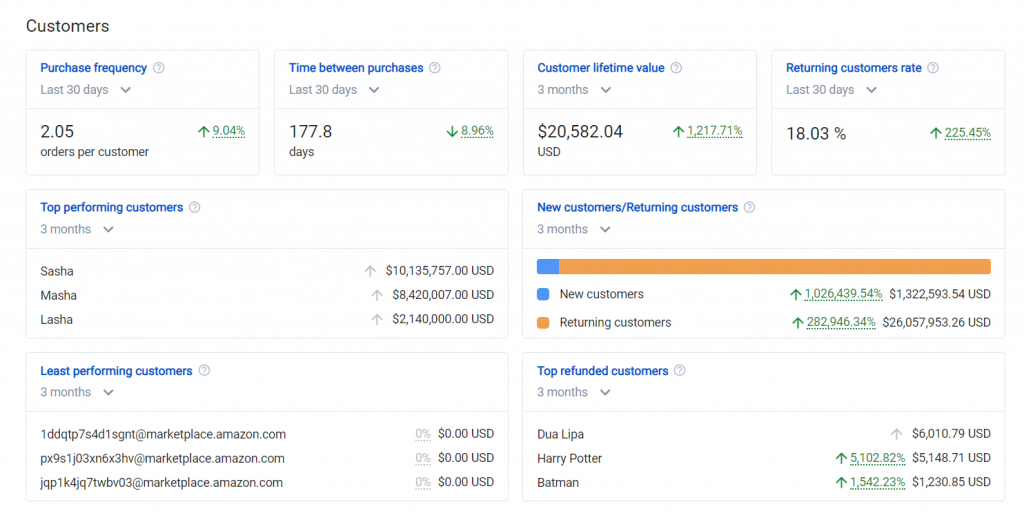 Learning who your customers are should start with the Top performing customers and Least performing customers reports. You'll be able to see the respective ranking of your customers and display them by income, items, etc.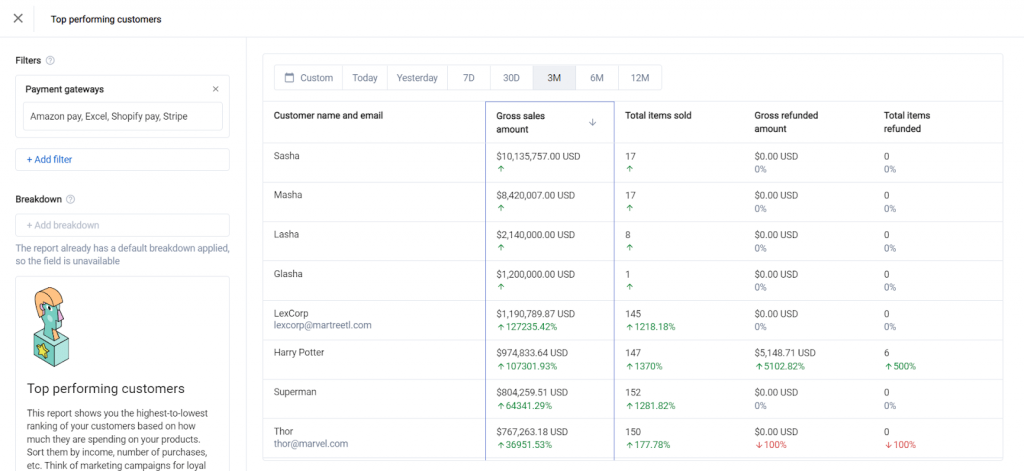 Along with customers, you can thoroughly inspect your items. You'll get access to precise information about your items' performance.
To bundle products correctly, start with studying the Top performing products and Least performing products reports. You can sort the items by various filters in order to analyze their performance, predict demand, diversify the range, etc. If you want to bundle your best-/worst-selling products together – look no further.
Additionally, Synder provides you with the Products most purchased together report, which gives you insights into which items are already bought by your customers together and therefore should be bundled.
What's more, you can get detailed statistics on AOV in order to understand how successful and effective your strategies (including bundling) are. In the Average order value report, you can display the statistics by period (today, yesterday, 3-12 months, or custom). It's a good place to start maximizing the value!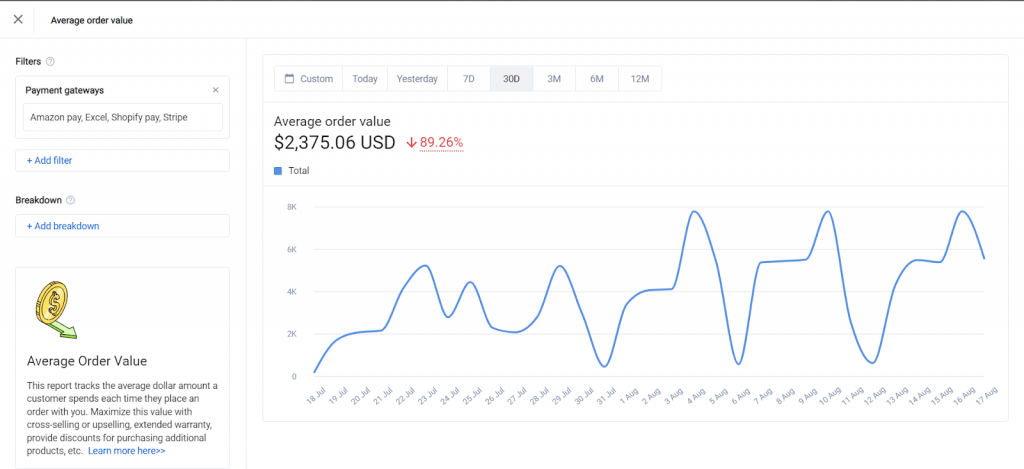 These reports are just part of what Synder Insights can do for you in terms of metrics. Check out the full list of indicators available.
Ready to experience automation and simplify e-commerce product bundling with Synder Insights? Learn more about the tool by starting a free 7-day trial or book a demo with our specialists and get a detailed overview of how everything works.
Final thoughts
Product bundling is a great way to increase your sales both online and offline. Creating a compelling product bundle as well as choosing the right product bundling strategies for your e-commerce business should be data-driven as only scrupulous data analysis allows you to foresee the performance of bundles among your customers. Turn over the calculation of metrics to automated software that can do it accurately and in a few clicks. Save time and money, trust the automation!